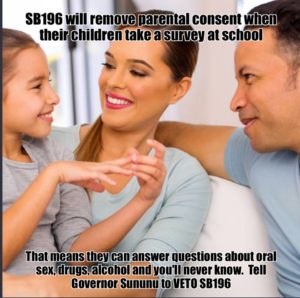 Testimony submitted to Senate Education and Workforce Development Committee by Ann Marie Banfield, Cornerstone Action Education Liaison.
On behalf of Cornerstone Action, representing thousands of New Hampshire residents. I offer this testimony in opposition to SB 196.  The bill seeks to change the requirements for school district policies governing the administration of non-academic surveys or questionnaires by removing informed written consent by parents or guardians.
The current law on non-academic surveys arose in part from a study committee on HB 206 in 2015.  In the course of that study, several bureaucrats opposed requiring informed parental consent before surveys were administered to children. Among their reasons was the fear of losing grant funding if administration of non-academic surveys were to be contingent upon parental permission. We believe seeking such permission is well worth the effort. It's important to note that parents are required to submit permission slips for field trips or for a student to receive an over-the-counter medication such as Tylenol, so we know that written parental permission is not an undue burden on educators.
Cornerstone strongly supports the law on parental permission for non-academic surveys, signed into law by Governor Sununu in 2017. We support the law not only on the grounds of parental rights but also out of concern for student privacy. We maintain now that the law isn't broken and it doesn't need to be fixed.
The bill before you, SB 196, would change the law from parental opt-in for surveys to an opt-out policy. This would undermine the rights of both parents and students. The bill before you seeks not to amend the law but to gut it. Essentially, an opt-out policy assumes that when school officials choose to administer an invasive non-academic survey to students, a family automatically surrenders its privacy rights unless a parent states otherwise in writing. Such a policy is simply wrong.
Parental opt-in is the only consent standard that protects both student privacy and parental rights. There is no legitimate justification for non-academic surveys to be administered under any other consent standard.
The fact that a grant to a school district might be contingent upon administration of a non-academic survey is irrelevant to the need to abide by the New Hampshire law passed in 2017. No grant is enough to justify undermining parental rights and student privacy.
It is critical that grant dollars do not become the main focus when administering invasive surveys.  Unfortunately, lobbyists and bureaucrats have in the past shown more concern for grant money than following ethical boundaries set up to protect children. Testimony on the 2017 bill that was signed into law revealed a sharp distinction between securing funding versus protecting children.  Putting funding ahead of student privacy contradicts both the American Psychological Association's (APA) ethics code and the guidelines of the Institutional Review Board (IRB).
Privacy is a concern anytime a school or a grantor collects student data, which is what happens when a student takes a school-administered survey. A New Hampshire data security expert, Jon DiPietro, testified on this point during hearings leading to passage of the current law. He said that such student data is not truly anonymous, and in the case of surveys administered annually, data can track a specific student's answers over the course of several years.
Informed consent and privacy protections must be your focus as you consider SB 196.  The IRB affirms the importance of protecting subjects that are involved in research including surveys, especially when the subjects do not have the legal or practical capacity to protect themselves.  Since students are still considered minors, if the IRB is the ethical guideline along with the APA's Code of Ethics, it seems appropriate to vote against any legislation that puts the privacy of children at risk.
For these reasons, we urge the committee to vote "inexpedient to legislate" on SB 196. Thank you.
Supplemental References:
From the American Psychological Association Ethics Code
The APA Code of Ethics is very clear on parental consent when administering these kinds of surveys to minors.
9.03 Informed Consent in Assessments
     (a) Psychologists obtain informed consent for assessments, evaluations, or diagnostic services, as described in Standard 3.10.  
3.10 Informed Consent  
     (b) For persons who are legally incapable of giving informed consent, psychologists nevertheless (1) provide an appropriate explanation, (2) seek the individual's assent, (3) consider such persons' preferences and best interests, and (4) obtain appropriate permission from a legally authorized person, if such substitute consent is permitted or required by law. When consent by a legally authorized person is not permitted or required by law, psychologists take reasonable steps to protect the individual's rights and welfare.
From the University of New Hampshire
For an example of an invasive survey, please see this one from the University of New Hampshire:
http://media.myfoxbostoncom.cmgdigital.com/document_dev/2016/03/03/ANDOVER%20HS%20SURVEY_3014479_ver1.0.pdf
From Fox News:
A middle School in Massachusetts administered a Youth Risk Behavior Study survey in 2011: "A middle school in Massachusetts is under fire for requiring children to complete a graphic sex survey — without parental knowledge or consent — that included questions about sexual partners and oral sex." Such incidents gave impetus to the efforts by New Hampshire parents to get a non-academic surveys law like the one passed in 2017.
https://www.foxnews.com/us/school-surveys-7th-graders-on-oral-sex