A bill to provide protection for viable preborn children brought a crowd of supporters to Concord to urge House legislators to do the right thing. Cornerstone's Shannon McGinley and Gabrielle Jette were at the January 31 hearing on HB 1680, the Viable Fetus Protection Act, calling for an end to the state policy that leaves abortion unrestricted throughout all nine months of pregnancy.
Chief sponsor Rep. Keith Murphy and co-sponsor Rep. Jeanine Notter spoke at a press conference before the hearing, joined by Cornerstone executive director Shannon McGinley. Rep. Murphy explained why he brought the bill forward. "Several years ago, a friend of mine had a premature infant, 26 weeks gestation. A year later, I went to that child's first birthday party, and it was exactly like my own children's first birthday parties. And I thought to myself, '26 weeks, that's very young. When is abortion not permitted in New Hampshire?' I went looking for the answer, and to my surprise, and frankly disgust, I found that it's allowed right up to birth. I found that horrifying. That's why I began sponsoring this bill."
The most compelling testimony of the day (attracting front-page coverage in the New Hampshire Union Leader) came from a young man who was born at 26 weeks gestation, when aborting him would have been legal in the Granite State. Now 16 years old, Christopher Duffley told members of the House Judiciary Committee about how his life was affected by the people around him who saw his innate value, irrespective of his state of development at birth: his adoptive parents, the medical personnel who worked to save him, and a teacher who perceived his talent for singing and performance.
"Although I cannot vote until December of 2019, I can be a voice for those of us who were born premature," said Christopher. "What is the heart of the matter? I believe that every heartbeat and every new life matters. How different would our world be if everyone chose to see with their heart? Pretty different, right? Very soon, you'll get to vote on this bill. Is the well-formed growing human being inside the mother worthy of protection? My question to you is, what do you know to be true in your heart?"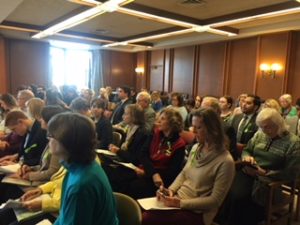 Rebecca Schmitz testified about her son Micah, born at 30 weeks gestation, now a healthy boy about to celebrate his ninth birthday. Rebecca recalled that after Micah's birth, "They quickly rushed him down to the NICU. Post-surgery, they were working rather quickly to get me down there to see him. They even pushed aside the incubators in the NICU to roll my entire bed down so I could be next to my son.
"I asked the nurse 'what's the big deal, why do I need to be right here with him right now?' And she said "You know, he's been hearing only your voice for the last 22 weeks of his life. Your voice is the greatest emotional stabilizer that you can give him." I thought wow – at 30 weeks gestation, where I could have legally aborted my son and ended his life, he actually has emotions that need support and can feel abandonment or distress."
Rebecca told the committee, "Imagine the duplicity that in this wing of the hospital they were working day and night to save our babies, and in another wing of the hospital they were rallying to end the life of a baby exactly the same age as mine."
The hearing on HB 1680 was followed immediately by a hearing on another bill supported by Cornerstone, HB 1721, banning coercive abortions. So many people wanted to testify that time ran out. The committee chairman has the option of scheduling another session to allow for more public testimony.
The Judiciary Committee has not yet scheduled a vote on either bill.